St Albans Last Chance Saloon – New Date: Tuesday 10th April
Posted: 21 March 2018
A Last Chance Saloon, replacing the one cancelled due to adverse weather, has now been scheduled to take place at Skyswood Primary school during the school Easter Holidays.
The tournament provides an opportunity for players who have not already qualifed for the MegaFinals through their own school or club to do so in an OPEN competition.
Boys and Girls in each age group from u7 to u11 will compete to qualify to play in the MegaFinals.
The Hertfordshire Megafinal will be held at St George's School, Harpenden, on Saturday 5th May where qualification places in the Southern GigaFinal will be awarded alonside the Hertfordshire Supremo and Suprema titles.
St Albans Last Chance Saloon: CANCELLED
Posted: 18 March 2018
Due to the adverse weather today's Last Chance Saloon at Skyswood School, St Albans is CANCELLED.
We will try and find another date.
ECF U18 County Championship
Posted: 5 March 2018
Hertfordshire entered teams in both the Open and Minor sections of the U18 County Championships which took place at King's School, Grantham, on Sunday 25th February.
U18 OPEN
| Position | Team | Score | Average ECF Grade of Team |
| --- | --- | --- | --- |
| 1st | Kent | 16.5 | 151 |
| 2nd | Sussex | 16 | 161 |
| 3rd | Surrey | 15 | 154 |
| 4th | Hertfordshire | 9.5 | 131 |
| 5th= | Leicestershire | 7.5 | 118 |
| 5th= | Suffolk | 7.5 | 122 |
U18 MINOR (under 130 ECF)
| Position | Team | Score | |
| --- | --- | --- | --- |
| 1st | Norfolk | 9 | |
| 2nd | Yorkshire | 8.5 | |
| 3rd | Kent | 7 | |
| 4th | Nottinghamshire | 5 | |
| 5th | Surrey | 2 | |
| 6th | Hertfordshire | 1.5 | |
In the Open we faced rather strong opposition and experienced a rather a shaky start, but we performed considerably better in the second round.
Our top board, Taran Jina, had the satisfaction of winning both his games as did Alan Wang on board 10. Other players who scored well were Asha Jina (bd 5), Harjivan Singh (bd 6) and Aman Gogna (bd 7), each achieving a win and draw in their two games.
The School's Trophy, for a team of 4 players from the same school, was won by our players from Haberdashers' Aske's school with 5.5 points. The winning Habs team comprised Harjivan, Aman, Param, Alan.
In the Minor section, we were handicapped by only being able to field a team of four, instead of six players.
A report of the event can be found on the ECF website through the link: U18 County Championships 2018
U110 and Stars Barred Tournaments
Posted: 12 February 2018
This event took place at Aboyne Lodge School on Sunday 11th February.
The U110 is a tournament for experienced junior players who have an ECF grade (or estimated grade) below 110, whereas the Stars Barred is designed as a friendly introduction to tournament play for beginners and less experienced players.
U110 (12 players)
1st  Emily Maton (5/5)
2nd  Dara Owladi (4/5)
3rd=  Rohan Tathare, Tia Patel, Utkarsh B Bhamidimarri (3/5)
Stars Barred (27 players)
1st  Jai Jha (4/4)
2nd  Vincent Lee (3.5/4)
3rd=  Aarav Chavan, Arya Fazeli, Isabelle Lee, Joel Skeet (3/4)
The cross-tables and full results are available on the UTU Swiss Results website through the following links.
All games played in these tournaments will count towards players' rapid play grades in the ECF July 2018 grading list.
Delancey UK Schools Chess Challenge
Posted: 6 February 2018
The 2018 Chess Challenge is underway with many schools and junior chess clubs running competitions which allow players to qualify to play in the ever popular Megafinals.
Players also have the opportunity to qualify from the one day events, details of which are now published on the UKSCC website: Last Chance Saloons
Please note: Only players in the under-11 and lower age groups are required to participate in the first round qualifying events. Under-12 and older age groups do not need to qualify and can enter the Megafinals directly.
The Hertfordshire Megafinal will held on Saturday 5th May (Bank holiday weekend) at St George's School, Harpenden. Our maximum capacity is 200 players.
Further information can be found on the UKSCC website: Enter The Challenge
Maidenhead Junior Chess Club – Results of U11 and U9 Team Events
Posted: 20 January 2018
The results of the recent Jamborees in which Hertfordshire U11 and U9 teams participated are now available on the Oxford Fusion Chess Results website:
These events provide new and existing players the opportunity to play chess and represent Hertfordshire in preparation for the EPSCA Inter-Association Zonals and Finals that take place in March and April.
We also run an U11 Girls Team and would be pleased to hear from players wishing to play in any of our teams.
Annual General Meeting starting at 12.00 noon on Sunday 29th October 2017
The AGM of Hertfordshire Schools Chess Association will take place at Aboyne Lodge School, Etna Road, St Albans AL3 5NL.
It will be held in combination with junior tournament comprising two sections:
Players graded below 110 ECF,
Stars Barred. Players graded below 40 ECF or ungraded.
The meeting is open to all chess parents and volunteers. It is opportunity to meet the committee, ask questions or make suggestions regarding the work of the Association.
If you wish to attend, please, email so that we can arrange sufficient refreshments.
LJCC Qualifier: Hertfordshire
Posted: 23 October 2017
The Hertfordshire qualifying tournament for the London Junior Chess Championships took place on Sunday 15th October at Aboyne Lodge Junior School.
Qualifiers to the LJCC final in December are:
U12 Major:  Rohan Olsen (5/6), Oliver Robbins (5/6), Adiveer Baweja (5/6)
U10 Major:  Vikas Kalaria (6/6), Deniz Ozdenoren (5/6)
U10 Minor:  Siddhartha Rathke (4/6), Adhritt Seth (3.5/6)
U8 Final:  Robert Shaporenkov (5/6), Rudra Debnath (5/6), Dara Owladi (5/6)
Full results of the three sections are available on the UTU Swiss Results website, as follows:
British Chess Championship, Llandudno 2017
Posted: 08 August 2017
The British Championship has now concluded and it is pleasing to report some excellent performances from Hertfordshire Junior (under-18) players.
The British Championship (103 players)
6th= FM Ravi Haria (Haberdashers), 6/9 – U21 Champion
31st= Taran Jina (Harpenden), 5/9 – performance rating FIDE 2222
Under 14 Tournament (39 players)
6th= Nadia Jaufarally (St Albans), 4.5/7 – Girls Champion
Under 12 Tournament (44 players)
3rd= Adithya Pramod Paleri (Watford), 5/7
Under 11 Tournament (52 players)
7th= Kian Shah (Watford), 4/7
Under 9 Tournament (74 players)
22nd= Kaveer Mehta (Watford), 3.5/6
Under 8 Tournament (56 players)
6th= Siena Gurjar (Watford), 4.5/6 – Girls Champion (joint)
8th= Ruwan Dias (Radlett), 4/6
Yates Weekend Under 120 Tournament (63 players)
3rd= Roshan Gurjar (Watford), 4/5
The full list of Prizewinners and Results are available on the British Championship website
South-West Herts League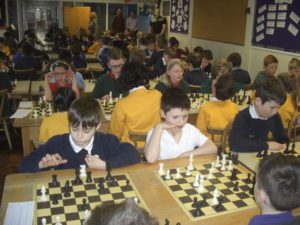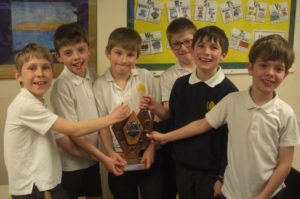 Winners in 2017: Roundwood Primary School
New Website
Posted: 19 May 2017
This is the new website of HSCA. It has a shorter and more user-friendly name, and its look and performance on mobile devices is improved by adopting a modern responsive template.
Our most recent event is the Hertfordshire Megafinal.