Saturday, 22nd April 2017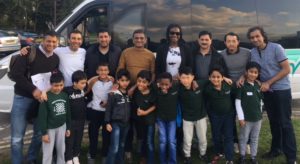 Herts u9 team and parents at Nottingham
The U9 Final was held in the spacious playing hall of Nottingham High School. There were 18 teams and the competition took place three rounds using jamboree pairing.
Kent were runaway winners, scoring 34/36. Warwickshire were second on 27. Hertfordshire scored well with 22.5 points, the same as Essex, but were placed behind them on tiebreak in eighth place.
Four Herts player did especially well by winning all three of their games. They were: Bruno Zheng (bd 3), Mischa Ufland (bd 6), Ruwan Dias (bd 11) and Charlie Ball (bd 12).
Full results are available via the links: