Saturday, 29th March 2017.
This year's Hertfordshire Megafinal was held at St George's School, Harpenden. on the Saturday of May Day Bank Holiday.
We welcomed 200 players, which is a considerable increase on last year. It was pleasing to recognise many players who had competed here last year.
The weather was good, and apart from the unfortunate delay in starting the first round the rest of the competition ran smoothly.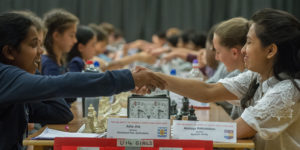 Photo: Gigafinal 2015. © John Upham
The next round of the Delancey UK Chess Challenge is the Gigafinal – to be held on 22nd-23rd July 2017 at Orleans Park School, Richmond.
Full results can be accessed using the following links: